How much does a website for a business cost?
We are in 2019. Not having a website is equivalent to being homeless in this day and age. Here is how much some websites depending on functionality cost on average…
On average, the upfront cost of a site, which includes launching and designing it, is $12,000 to $150,000, while routine website maintenance ranges from $35 to $5000 per month — or $400 to $60,000 per year.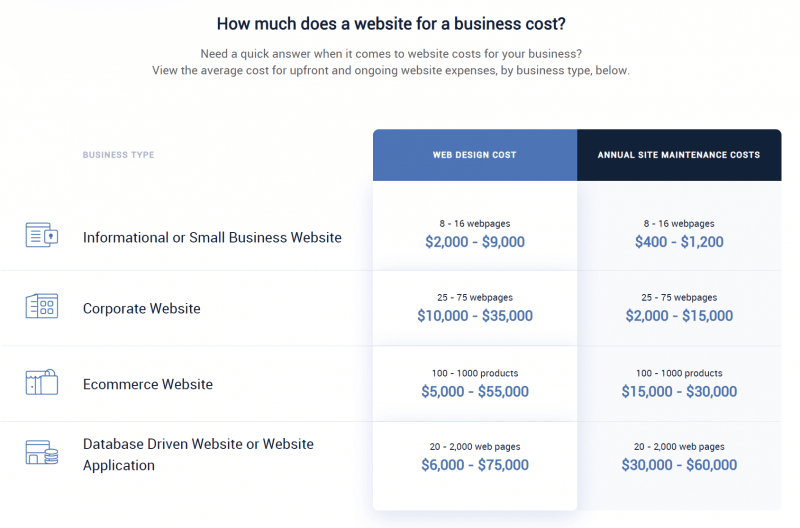 Source: webfx.com
---
Small Business Statistics You Should Know
If you own a business—or are thinking about starting one—you're in excellent company: there are 28.8 million small businesses in the United States, according to the U.S. Small Business Administration, and they have 56.8 million employees. Small businesses (defined as businesses with fewer than 500 employees) account for 99.7% of all business in the U.S. Especially when you look at small business statistics on a state-by-state level, you can see that communities across the nation rely on small businesses for jobs, goods, services, and general economic well-being.
Source: fundera.com
---
Website Design Industry Statistics: All You Need to Know in 2019
The big-picture:
Key Facts
48% of people cited a website's design as the number one factor in deciding the credibility of a business.
8 out of 10 consumers would stop engaging with content that doesn't display well on their device.
85% of customers trust online reviews as much as personal recommendations.
68% of the companies that developed a mobile-first website saw a rise in sales.
There are over 200 million active websites on the internet.
Do-it-yourself platforms for web development in the cloud are currently worth $24 billion in the US. They also experience a 4.9% annual growth.
62% of companies increased their sales by designing responsive mobile platforms for their websites.
In 2018, 52.2% of website traffic comes from mobile.
68% of companies which developed a mobile-friendly website design experienced an increase in sales.
73% of companies are investing in design to differentiate their brands.
94% of people say bad design is the main reason they don't trust certain websites.
85% of users trust online reviews as if they were personal recommendations.
36% of website visitors click on your logo to reach your homepage from other pages.
82% of customers trust a company after reading customer content.
Google has indicated that website speed is one of the signals used by its algorithms to rank pages.
47% of people expect websites to load in 2 seconds or less.
Your website has 10 or fewer seconds to leave an impression on users.
Users spend an average of 0.05 seconds on deciding whether to stay on your site or leave.
Cutting down your website load speed from 8 to 2 seconds can boost your conversion rate by up to 74%.
38% of users will not visit your website again if the pictures are not loading, the content is too long, and it takes too much time to load.
94% of all small business websites will be mobile-friendly in 2019.
94% of people judge websites on responsive design.
When you switch to video background, there is a 138% improvement in conversion rate.
78% of shoppers want e-commerce sites to include more images on their product pages.
Over 95 million photos and videos are shared on Instagram daily.
57% of people associate the color blue with success.
98% of all internet users in China are mobile.
Source: techjury.net